Do you think of your spares business as an Outsourced Parts Manager or Practical Spare Part Management System Solution for your customers?
Parts management is a critical role in the majority of farm equipment manufacturing operations. From how inventory is controlled to how it's sourced and included in the production process of manufacturing a final tractor, harvester or planter. Any company that is involved in supplying spare parts to the agricultural equipment industry needs to become part of their customers' spare part management systems solutions.
Why are agricultural equipment spares and parts businesses so critical?
Whether locally manufactured or imported, spare parts suppliers play a critical role in the value chain from a reliability and product-delivery perspective.
To be successful, farm equipment spares and parts suppliers have to ensure they always try their best to deliver on the following critical elements.
Are you a predictive supplier that keeps a well-maintained inventory of parts that can be dispatched quickly or are you a reactive supplier that has the ability and contacts to source parts quickly and get them delivered? Either way, you need to have your niche and be good at it.
Try to eliminate stockouts.
Do you run a good inventory system that is effective and can be tapped into?
Speed of delivery and lead times
Being able to deliver on the above will always go a long way in fostering good business relationships throughout the agricultural industry.
How to make agricultural dealers and farmers or manufacturers aware of your offerings
When it comes to marketing your farm equipment spares and parts, you have to build a value proposition that is based on your business strengths. Your story needs to be a promise that you know you can deliver on. Be it only one of the above points or all four, your brand is only as strong as the products and services you offer. Once you have a story, you need to tell it.
How can I get my agricultural spares and parts business recognised?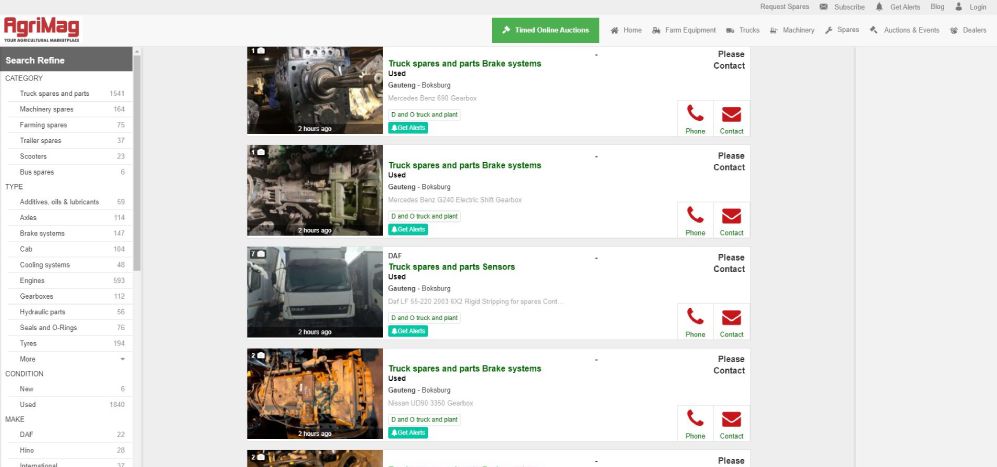 Finding creative ways to get your brand message recognised is one way. Another is to get your message in front of as many potential customers as possible.
Online marketplaces. Making sure you are active on your pages and having a good brand presence is the first place to start.
Run campaigns and promotions to agricultural databases via WhatsApp, SMS, or email.
Look at expanding your marketing functions by adopting additional marketing tactics like Search Engine Optimisation (SEO), Google advertising and some social media.
Create content around your product offerings and business that informs people about what you do and why. This will reinforce your promise and also help to build your digital presence.
Why is managing expectations so important?
The proof is always in the pudding. Don't take on work you know you can't manage because once you have disappointed a customer, it is very hard to get them back. Playing open cards will always mean the door is open for another opportunity should the need arise later on. Make sure that you keep your customers informed so that they can manage the expectations of their customers.
AgriMag has a team of dedicated account representatives to assist you with marketing your spares and parts business. We also have a wide range of additional marketing solutions like email and SMS campaigns and digital lead-generation campaigns on Google and Facebook to enhance your digital marketing footprint.
Contact us today, and we will gladly book an appointment with you to present the best possible solutions for your spares and parts business.