Quick Links:
What is a Forklift?
A forklift is a relatively smaller industrial machine that is usually powered by a fuel- or battery-operated engine. The engine is set at the back of the machine and is used as a counterweight for the hydraulic lift and fork that is usually attached to the front of the machine. The forks at the front can be raised and lowered. Forklifts are operated by a driver who controls the back wheels of the machine to enable steering.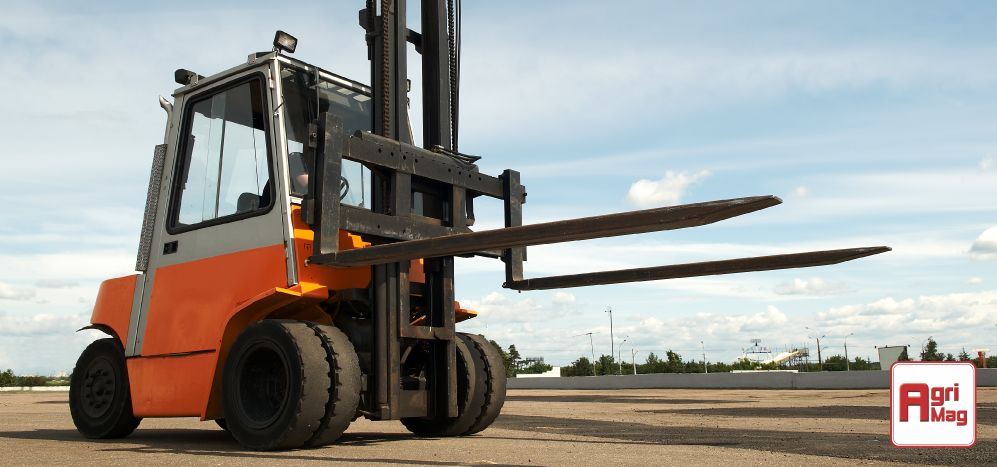 What is the purpose of a Forklift for farming?
Forklifts are used on farms for material handling since they can lift and move materials with ease. On farms, forklifts can be used for the following tasks.
Moving hay bales.
Towing loads.
Lifting and carrying farm-related equipment.
Moving goods around in packhouses.
Loading and unloading of goods from and onto trucks.
How to find a forklift on AgriMag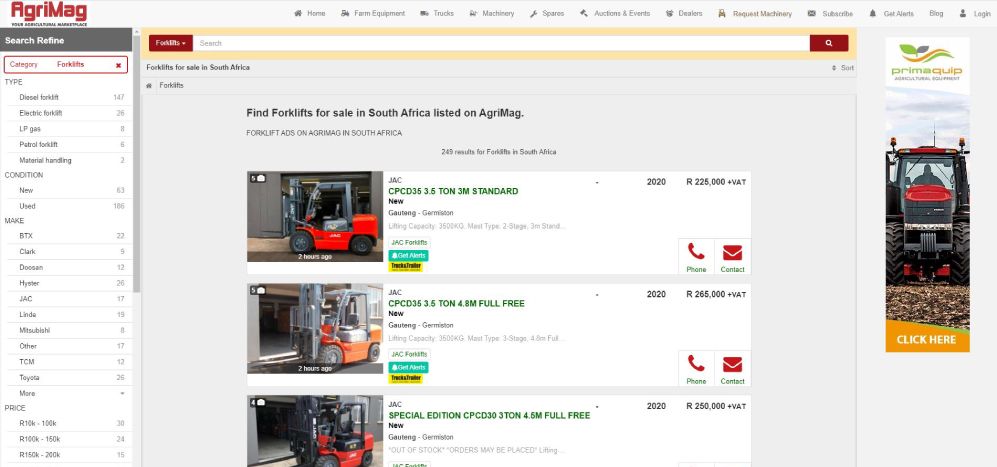 From the AgriMag home page, you can select the Machinery section on the search block and select forklifts from the category dropdown list. You can further filter your search by make or region if needed.
You can also navigate to the Machinery section on AgriMag and select forklifts in the category menu. You can then further refine your search by the type of forklifts you are looking for, the condition, make, price, region, and year of manufacture.
On the search results pages, you will be presented with all the forklifts that match your search criteria. You can open each advert listing where you will find further details about the forklifts and the seller's contact information.
How to buy a used Forklift
When it comes to buying a used forklift for farming, AgriMag is the perfect online marketplace. Here are some key factors to consider when buying a forklift:
Establish why the forklift is being sold and try to get some idea of its working past.
Review its maintenance history and oil-change records. Also, understand if it's had any mechanical work done to it. Ensure that the machine has a valid service record.
Understand if any parts need immediate replacing, what they might cost, and if they are easily sourced.
Here are some key inspections to make when buying a used Forklift:
Check the mast chains and hoses for wear and tear.
Check the forks for alignment and general condition.
Check the steering, pedals, and levers for general condition and working order.
Check the tyres and tread for wear and tear.
Check the overhead guard for structural integrity.
Check the engine for wear and tear.
Check the hours of operation. Upon inspection, make sure to perform the following tests so that you ensure you are buying a fully functional forklift.
Ensure that the forklift is in good working condition and can drive as required in all directions. Have an operator on hand so you can see it in action.
Check that the mast works and that its mechanics are sound. Perform a full mast extension, side shift, and tilt test to gauge how it performs. Also, gauge its strength under a payload.
How to sell a used Forklift
The perfect place to sell a used forklift for farming purposes is on AgriMag. When loading your advert listing, make sure to mention and explain the condition of the following elements.
Give the buyer a good description of its running condition and list the condition of the following key components:
Mast chains and hoses.
Fork alignment and general condition.
Steering, pedals, and levers for general condition and working order.
Tyres and tread.
Overhead guard for structural integrity.
Engine for wear and tear.
Having a detailed description of your forklift and all its working parts will go a long way in assisting your sale.
Advertising your forklift has never been easier than using AgriMag. We have various options available to you and our expert sales team is ready to assist you.